Air is
pure life
it is the awakening that gently hands us to the World with the first cry, it is the first cuddle that we receive when we are born, the air embraces us even before mother does ..
AirCuddle means all this, it is a CUDDLE CONSISTING OF PURE AIR that with the line of products designed to guarantee baby SAFETY, HYGIENE and COMFORT provides them with an ideal sleeping environment.
For a peaceful rest for you and your baby,
Line of products for the REST of your baby,
a sleep line that guarantees
SAFETY, COMFORT HYGIENE,
mattresses for children, pillows, mattress covers.
The special line of breathable
car seat and buggy covers!
Car travels and walks in the stroller
will be more serene for both
children and parents.
To know more
Some suggestions for your baby's safe rest,
our research on comfort, our safety standards
AirCuddle mattresses have been tested according to the recent European EN 16890:2017 by CATAS...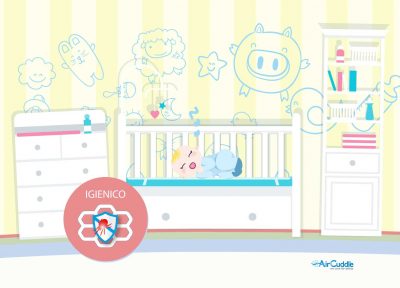 To scientifically test the efficacy of the AirCuddle TOP SAFE mattress protector, as an...
To scientifically test the air permeability of the AirCuddle TOP SAFE mattress protector, we...
Bedtime for babies suffering from gastro-oesophageal reflux can be disturbed, or even...
Baby's sleeping environment is fundamental from the very first weeks of life. The FIMF (Italian...
AirCuddle dedicates care and attention to all babies in order to guarantee them a safe and...
Happy moms and dads
I just bought the COOL SEAT cover for the car seat and I'm very excited … Claudia no longer has wet head and neck when we get out of the car! COOL SEAT TOP

I recommend the EASY SAFE COMBO mattress because I feel great. The TOP SAFE mattress cover, included in the 2in1 combo, is also excellent, it is permeable to air and disperses excess moisture and heat. In fact, my baby doesn't find her more sweaty after her nap. It is also super practical because it can be machine washed at 60 ° and dries quickly and if desired I can use it on any mattress to have hygiene and safety even outside the home.

It is important to take care of our children, offering them ergonomic and safe products, designed specifically for them, free of harmful substances and hypoallergenic. After the year of life we ​​can introduce the pillow, but not just any one, as children do not yet have the same proportions, and we risk causing them permanent damage to the vertebral column. This is why the company aircuddle has created an innovative cushion called Breeze, which can be used for 6 months. Breeze is a super breathable cushion made of micro-perforated fabric and with a special 3D structure completely permeable to air laminated to a sponge absorbent and a protective and waterproof one. The combination of these 3 layers makes the cushion hygienic and protects the padding even from accidental regurgitation. Thanks to the micro-perforated fabric we can sleep peacefully, our little ones will have no problem breathing even on their stomach, as my baby always sleeps. The cushion cover is removable and machine washable at 60 °. I love aircuddle products, they are reliable and completely hypoallergenic, they are Oeko-Tex class 1 certified, I recommend everyone to purchase

Safe product, easy to use, easy to wash, perfect for toddlers. I've been using the TOP SAFE mattress cover for the wheelchair since my daughter's birth and I would recommend it to anyone !!!

This summer when the heat started we looked for a cover for the car seat. In the store the shop assistant proposed us the COOL SEAT, we did not know the product but we immediately fell in love with it … and also our Giulia did!

I bought the COOL SEAT cover for the stroller because Mattia sweats a lot … and with the classic sponge covers I've never solved the problem … he sweats and gets nervous right away. I am extremely happy to have tried it … now I have also bought the car seat cover and for us it is all another life … well done

Amazing! Finally Luca is super happy to hit the road in his car seat …

Giulia and Elena, my little twins, love AirCuddle … never more without!

our grandparents gave it to us … simply brilliant!

Great product! Our little girl sleeps peacefully and quietly all night long on the Maxi Safe Combo 2in1 mattress … perfect for our crib! Highly recommended!

Great, the nights are quieter Thanks to our Top safe mattress cover and Breeze pillow

We have the TOP SAFE mattress protector and it is our salvation, since we removed the diaper even at night I always have him under! It is our salvation! Promoted with full marks!

Truly excellent baby products, the quality is top notch, recommended purchase
You can login using your social profile
We use cookies to ensure that we give you the best experience on our website.